Our Philosophy of Work
Just as orchestras of the modern world
faithfully reproduce the classical works
of the past, we follow the artisan
tradition of Tiffany Lamp manufacture
in our studio.
The patterns and forms of Tiffany's
stained glass lamp shades developed
at the end of the 19th century are like
the musical scores handed down by
the geat masters.
Our methods are largely identical to
these originals , and often we use the
same American stained glass and
material suppliers, which still exist to
this day. Here are two documents from
the archive of
KOKOMO OPALESCENT GLASS, (KOG)
which is still in business today after more
than 120 years: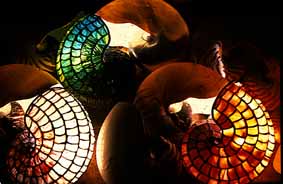 Image by Dr. Grotepass-Studios (1984):

"Nautilus Lamps and Nautilus Shells"